Standout Rose
---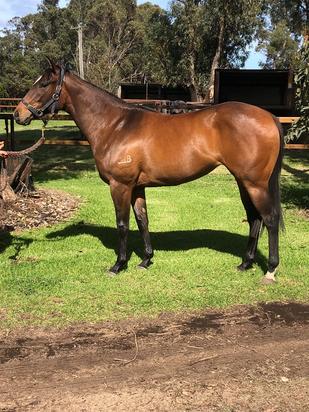 Sire: Blackfriars
Dam: Rose
Colour: Bay
Gender: Filly
Age: 3 year old
Foaled: Sep 24th, 2017
Country: Australia
---
Owners
D A Barnao & Ms M C Gracie
---
Career Record: 8-2-2-1
Prizemoney

$65,340.00

Wins

25.0 %

Place

37.5 %
---
Pedigree
STANDOUT ROSE (AUS)

Bay Filly
Foaled in 2017

---

| | | | |
| --- | --- | --- | --- |
| Sire | Danehill | Danzig | Northern Dancer |
| BLACKFRIARS (AUS) | | Razyana | His Majesty |
| 1996 | Kensington Gardens | Grosvenor | Sir Tristram |
| | | Tilly Foster | Vice Regal |
| Dam | Mosayter | Storm Cat | Storm Bird |
| ROSE (AUS) | | Bashayer | Mr. Prospector |
| 2005 | Cottage Rose | Cheraw | Caro |
| | | Rosewood | Triumphal March |

---

BLACKFRIARS (AUS) (Bay 1996-Stud 2001). 4 wins to 2500m, Victoria Derby, Gr.1. Sire of 796 rnrs, 493 wnrs, 41 SW, inc. Black Heart Bart (SAJC Goodwood H., Gr.1), Playing God, Come Play With Me, God Has Spoken, Rohan, Black Tycoon, Pop Culture, Eclair Surprise, Shining Knight, Kerrific, Mansion House, Prentice, Manjar - Tom's Six (H.K.), Summah's Touch, Spiritual Warrior, Tellem We're Comin, Gangbuster, Chocolate Holic, etc.

1st dam

ROSE, by Mosayter. 4 wins at 1000m, 1100m, WATC Blonde Jev H., 2d WATC Myer Fashions on the Field H. Half-sister to EL PRESIDENTE. Dam of three named foals, two to race, inc:-

Princess Rose (f. by Danehill Express). Winner at 1200m in 2018-19 in Aust.

2nd dam

COTTAGE ROSE, by Cheraw. Placed in Aust. Dam of 6 named foals, all winners-

EL PRESIDENTE (Dante's Fury). 10 wins from 1200m to 1600m, A$1,024,515, WATC Railway S., Gr.1, RJ Peters S., Gr.3, Asian Beau S., Gr.3, Roma Cup, Gr.3, Bunbury RC Patrons South West Breeders' P., WATC Summer Beau H., Pocket Trim H., 2d WATC WA Week Aquanita H., 4th WATC Kingston Town Classic, Gr.1.

Shahbash. 5 wins from 1200m to 1800m, A$75,714, WATC Graham McPherson H., Turn a Glow H., Wolf Blass H., 3d WATC Ozbet.com.au H.

Rose. 4 wins. See above.

Rose Thief. 2 wins at 1500m to 2019-20, Perth Racing Tabtouch Better Your Bet P.

Diva Rose. 2 wins at 1500m, 1700m in Aust.

Rajah Rajah. Winner at 1100m in Aust.

3rd dam

ROSEWOOD, by Triumphal March. Winner at 1400m, 2d WATC Mrs Dance H. Half-sister to JAY PEE'S SPECIAL. Dam of 1 foal, 1 to race-

Cottage Rose. See above.

4th dam

JOLIES JAMBES, by A Chara. 3 wins from 2200m to 3400m in NZ. Dam of 6 named foals, 5 to race, 2 winners, inc:-

JAY PEE'S SPECIAL (McGinty). 5 wins from 1400m to 2400m, ARC Mitchelson Cup, L, Counties RC Winstone Aggregates H., Alf Cole Memorial H., 2d Waikato RC Spencer Helicopters H., 3d Waikato RC Fayette Park Grosvenor P.H., L, Whangarei RC Whangarei Cup, Matamata RC Murray Wilcox Ford New Holland H.

Rosewood. Winner. See above.

Jolie Miss. Placed at 2, 2d Avondale JC Jersey Juvenile H.

Hypersonic II. Placed in Malaysia.

5th dam

LEGS ELEVEN, by Better Honey. Unplaced. Three-quarter-sister to LITTLE REBEL. Dam of 15 foals, 14 to race, 8 winners, inc:-

King Kalab - Hong Kong Dollar (H.K.). 10 wins-1 at 2-from 1150m to 1650m, Waikato RC Glenview H., HKJC San Miguel H., Hilton Silver Jubilee H.

Tyrant. 6 wins at 1200m, 1600m, Avondale JC President's H., Sportsman Filter Sprint H.

Sal Lasall. Unraced. Dam of-

Sal Tarrago. 3 wins at 1200m, 1400m, 3d ARC Timpro Timber Products Mile. Dam of-

COIN COLLECTION (Penny Red). 6 wins from 1400m to 2100m, NZ$118,800, Rotorua Challenge P., L, Egmont Cup, Taranaki RC Hurlstone Earthmoving & Civil H., Wanganui JC Guthrie Bowron H., 2d ARC Dunstan Feeds H., Taranaki RC Andres Pies H., Speights Dozen Day H., 3d Taranaki RC Waikato Stud Opunake H.

Sweet Revenge (Justice Prevails). 5 wins-1 at 2-from 1200m to 2100m, NZ$76,275, Manawatu RC Awapuni Hotel H., Marton JC Nag & Noggin TAB Juvenile H., Fayette Park 3YO S., 2d WRC Cuddle S.H., Gr.3, Rotorua Challenge P., Gr.3, Rotorua S., L, WRC NZTBA Training Scholarship H., 3d WRC Cuddle S.H., Gr.3, Rangitikei Gold Cup, Manawatu RC The Sportsman Inn H., Newmarket Lodge 2YO H., 4th Marton 1600 H., L, Feilding JC Anzac H., L, Foxton RC Castletown S., L, Wanganui JC Waikato Stud S., L. Dam of-

Problem Solver (Hinchinbrook). 2 wins at 1200m, A$313,410, to 2018-19, Wyong Magic Millions S., GCTC Magic Millions P., 2d ATC PJ Bell S., Gr.3, Your Local Greengrocer H., Australian Turf Club H., 3d ATC Snitzel H.

Ned. 7 wins at 1200m, 1600m, CJC Westenra H., Marton JC Nu Farm H., Manawatu RC Davis Trading Co Ltd H., Hawkes Bay Bowlers Punters Challenge H., Avondale JC Frank Sing H., 3d ARC Ellerslie Gateway Apprentice Jockey H., 4th ARC Great Northern Challenge S., Gr.3.

Race Record:

Unraced.